MITvote
A non-partisan student organization at MIT, MITvote is currently working to increase voter turnout and student engagement in local, state, and federal elections.
We are actively seeking new members! Scroll down to find more information on how you can help out.
Election Day is Tuesday, November 7th, 2023!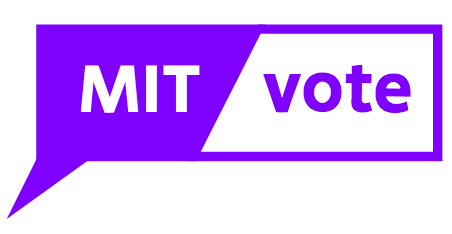 The Future of Democracy Panel 2022
Unsure about whether to vote in the 2022 election? Our panelists argue voting this year is important for democracy itself!
With election denialism on the rise and many state and local offices on the ballot, it is important that we vote in people willing to protect our democratic institutions. Watch the full panel HERE for discussion of the importance of the 2022 elections in the current moment, election security, polarization, and more!
Come talk to us!
Have a question about voting? MITvote will also be tabling in lobby 10 throughout September and October. Check our calendar for specific dates and times! Come find us to get help with any of your voting needs! We can help you register, help you request an absentee ballot, provide an envelope and a stamp, help you find your polling place, and more! Unable to find us? Email vote-questions@mit.edu!
Join Us!
MITvote is actively seeking volunteers for the 2023 Election season! We need help to run registration drives, answer people's questions, run social media accounts, plan events, and much more. We would love to have your help whether it's a weekly commitment or simply sending a couple template emails every so often. If you are passionate about civic engagement, want to be more involved in government and politics, or simply wish more young people turned out to vote, please consider joining us!
MITvote will have an interest meeting on September 11th, 2023 at 6:30PM in 2-131. In the meantime, please email us at vote-exec@mit.edu to get involved.